Join the Children's Chorus of San Antonio for our 40th Anniversary Season!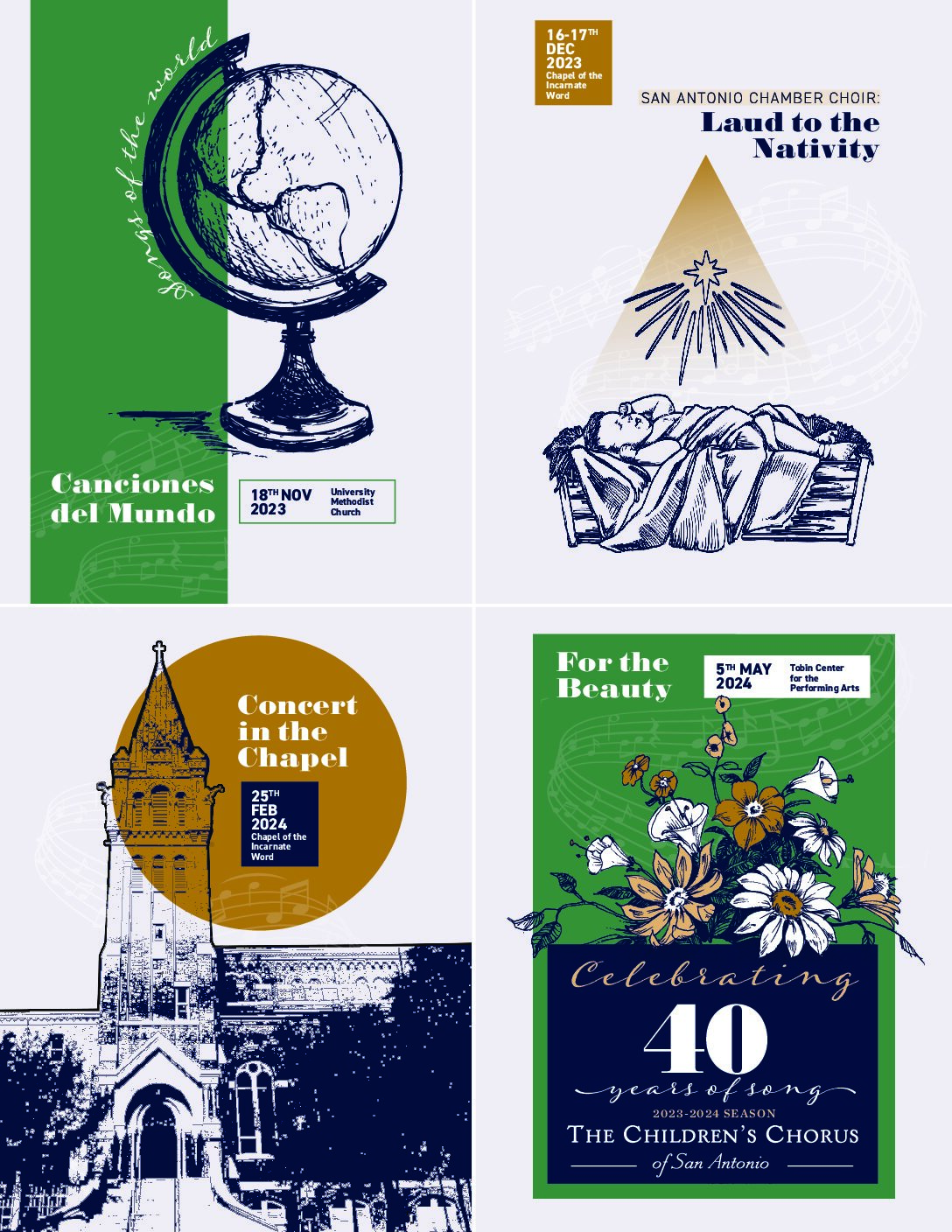 Canciones del Mundo 
Saturday, November 18, 2023 at 4:00 pm
University Methodist Church
Our 40th Anniversary season begins with a tapestry of music and lyrics from around the world. Join the seven choirs of the Children's Chorus of San Antonio as they perform folk songs, beloved arrangements, and new compositions in varying genres and languages. We will "fall into winter" with several selections to welcome the holiday season. Join the nearly 200 singers in kindergarten through twelfth grade for this annual fall season concert event. We Sing the World! 
 *Tickets on-sale at Canciones del Mundo Concert Tickets
*Poinsettias can be picked up before or after the concert. Purchase your poinsettia here:  CCSA Poinsettia Fundraiser
Laud to the Nativity with San Antonio Chamber Choir 
Saturday, December 16, 2023 at 7:30 pm & Sunday, December 17, 2023 at 3 pm
The Chapel of the Incarnate Word
We join the San Antonio Chamber Choir for the 3rd consecutive year. SACC's Christmas offering centers around the stunning, yet rarely sung work, Laud to the Nativity, by Luigi Respighi.
*More information at: www.sachamberchoir.org/concert-schedule/
Concert in the Chapel 
Sunday, February 25, 2024 at 4:00 pm
The Chapel of the Incarnate Word
Our third concert in celebration of CCSA's 40th Anniversary will take place in the glorious Chapel of the Incarnate Word. This free concert will feature our upper elementary through high school musicians performing both familiar and newer works enhanced by the pristine Steinway piano and other obligato instruments. Choral performances in the Chapel are like none other, as the singer's young voices echo throughout an ornate backdrop of the over 115-year-old Sanctuary. Transport your senses during this Sunday afternoon concert that is free and open to the public.
For the Beauty: Celebrating 40 Years of Song
Sunday, May 5, 2024 at 4:00 pm
Tobin Center for the Performing Arts
Join the Children's Chorus of San Antonio as we celebrate and honor our 40-year legacy of excellence in choral singing and musical performance. Highlights of the 40th Anniversary Celebration Concert include an Alumni Choir conducted by founding Artistic Director Marguerite McCormick and timeless choral classics performed by our seven ensembles. We close our celebratory season and concert with the world premiere of a commissioned work by Andrea Ramsey, uniting the combined voices of CCSA and the Alumni Choir, launching us into the next era of choral excellence!
*Tickets available August 13th at: https://www.tobincenter.org/forthebeauty
Additional Collaborative Performances
Opera San Antonio's Hansel and Gretel
October 5th and 7th, 2023,  Tobin Center for the Performing Arts. Learn more at: Hansel and Gretel tickets
San Antonio Mastersingers Sacred Echoes: Bernstein's Chichester Psalms
October 22, 2023 at 3 pm, Alamo Heights United Methodist Church. Learn more at: Chichester Psalms tickets