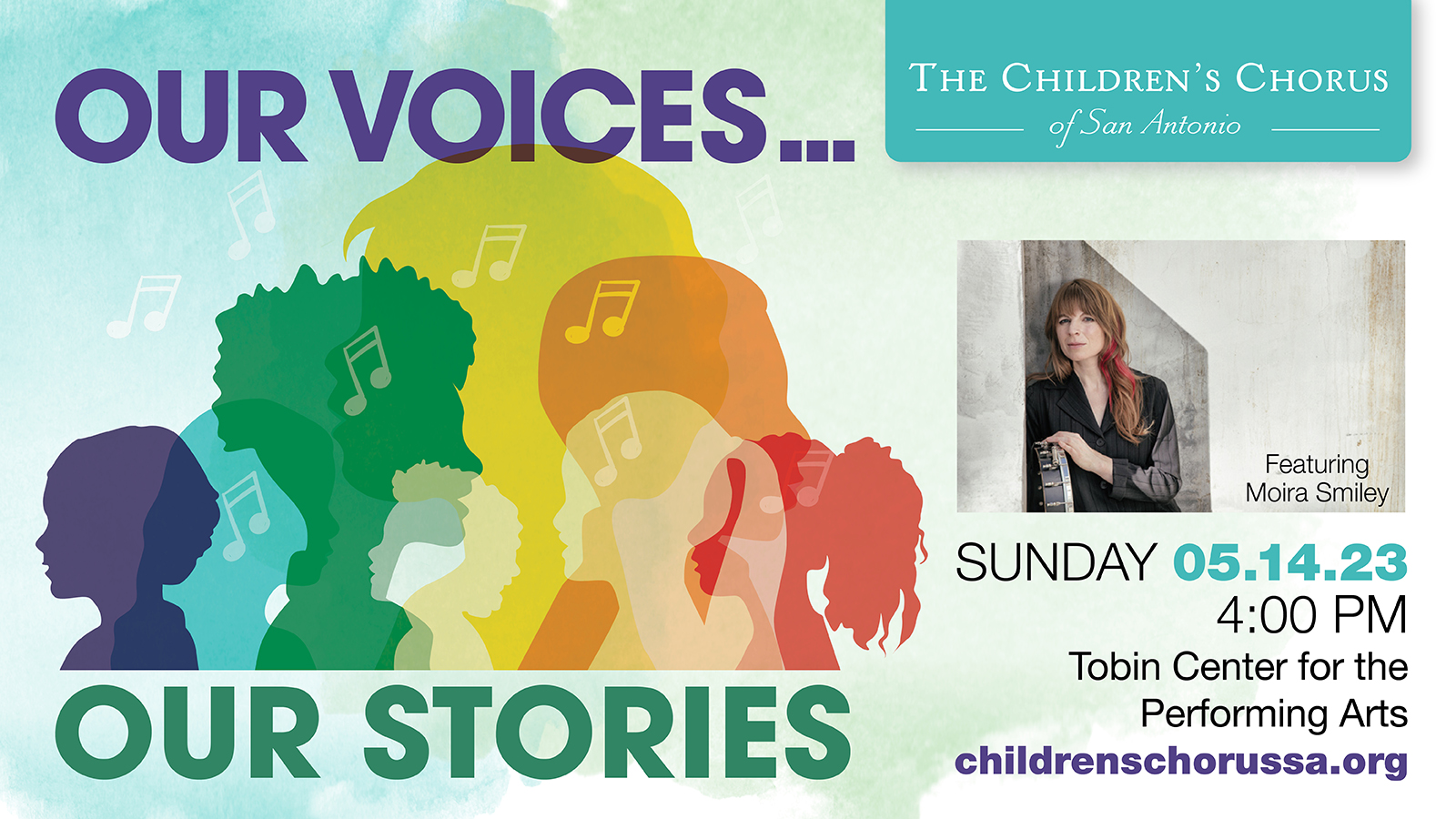 Purchase tickets here: Our Voices…Our Stories Concert Tickets
 Our Voices… Our Stories
 Sunday, May 14, 2023 at 4:00 pm
 Tobin Center for the Performing Arts 
Join the Children's Chorus of San Antonio's six ensembles for "Our Voices… Our Stories," presenting ground-breaking choral works touching on themes of access, equity, and belonging. Featured selections include works by Andrea Ramsey and a commissioned piece by Texas native Mari Esabel Valverde. Singer, composer, and song-collector Moira Smiley joins CCSA in performance, inviting the audience on a journey of thought and action, ending with the inspirational voices of nearly 200 young people united in song.
Chapel of the Incarnate Word Caritas Concert
 Sunday, April 23, 2023 at 4:00 pm
 Chapel of the Incarnate Word
The Caritas Concert Series, established by Mary Ann Winden, presents student, semi-professional, and professional organists in a variety of programs, including ones where the organ will partner with choral ensembles, displaying the broad and innovative use of the organ. 
Why "caritas"? The Latin word "caritas" means charity, or love, or specifically, the outpouring of love in charitable works. All programs in the Caritas Concerts Series will be free and open to the public in order to give everyone the opportunity to experience organ and choir performances of the highest caliber: an outpouring of love through a charitable act.
This concert will feature CCSA singers ranging in age from 9-18, performing in the Chorale, Choristers, Chamber, and Encore ensembles. 
More information here: Caritas Concert
Previous Concerts for the 22-23 Season:
Our Deep, Deep Earth (in collaboration with San Antonio Chamber Choir)     
Saturday, September 24, 2022 at 8:00 pm, Chapel of the Incarnate Word
Sunday, September 25, 2022 at 3:00 pm, Basilica of the Little Flower – 1715 N Zarzamora St
We begin with a message of hope, beauty, and concern for our precious planet. When Swedish teenager Greta Thunberg addressed the United Nations in September of 2019 she shocked the world with her impassioned declaration to the world's leaders – "How dare you?". These words have been set for choir by Wisconsin-born composer, and Texas high school teacher Andrew Steffen. SACC will offer the world premiere of this moving work in The Deep, Deep Earth.  We will also offer uplifting movements from the Missa Gaia / Earth Mass by Paul Winter and Paul Halley which includes the sounds of wolf, whale, and seals. The "Dean of American Composers", Aaron Copland is also featured with his finest a cappella work, In the Beginning, featuring Crystal Jarrell Johnson, mezzo-soprano. SACC will also collaborate with the Children's Chorus of San Antonio for this concert series.
When Nature Sings
Saturday, November 19, 2022 at 4:30 pm
Trinity Baptist Church – 319 E Mulberry Ave, San Antonio, TX 78212
Our season begins with a tapestry of music and lyrics that celebrate the bounty and beauty of nature and the earth around us. The intersection of simplicity and grandeur of the trees, rivers, birds, flowers, rain, sunrises and sunsets will be on full display throughout the program.
Join the choirs of the Children's Chorus of San Antonio as they perform Rutter's "For the Beauty of the Earth," in homage to CCSA's tradition of musical excellence, and selections by composers Ramsey, Schram, Ticheli, and Quartel, among others. Concert available both in-person and via livestream.
Pagliacci (with Opera San Antonio)
Thursday, November 3, 2022 and Saturday, November 5, 2022 Tobin Center for the Performing Arts
When a traveling acting troupe arrives to perform in a bustling town, the secrets and jealousies among them threaten to explode onstage—with deadly consequences.
Performed in Italian with English translations.